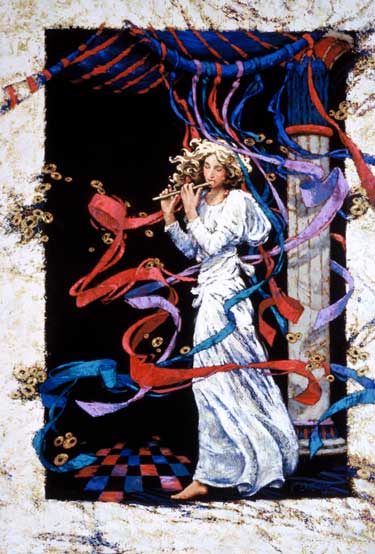 His Banner Over Me is Love
"His Banner Over Me is Love" is a poetic depiction of Gods plan to awaken the Church as a lover by revealing Himself to her. The Shulamite (Bride) in Song of Solomon illustrates this plan. She recognizes, "He has brought me to his banquet hall, and his banner over me is love." (Song 2:4) Then in the next breath she declares "Sustain me with raisin cakes, refresh me with apples, Because I am lovesick!" (Song 2:5)

In the painting, the Bride walks beneath a "banner" portrayed as a royal bridal canopy. Colorful streamers swirl and dance around her, caressing her with the revelation of God's incredible love. The divine romance of this moment wins her heart! In appreciative devotion to the Bridegroom God, she plays her flute, and golden melodies fill the air. Caught up in the intimacy of personal worship, she is unaware of the spiritual power her music unleashes to break down the barriers that hinder love.

His Banner Over Me is Love
Original, Oil on Canvas 50 x 36"
Giclees available on canvas and paper. Contact artist for custom sizes.




Back to Portfolio



For additional resources and information regarding the Bride of Christ, visit ihop.org.