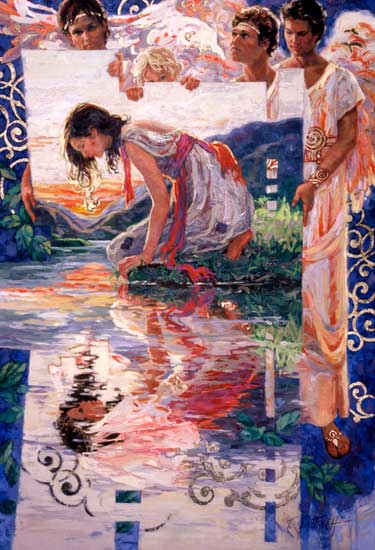 The Discovery
"The Discovery" depicts the juxtaposition of the natural realm against the backdrop of the spiritual realm at a crucial moment of revelation for the Church. The Church, accustomed to thinking of herself as insignificant, worthless, and common, sees her true reflection in the water. She sees that she is clothed in white and has been crowned with glory as Christ's eternal companion- His Bride!

The scenario evokes various responses from the angelic hosts since these are "things which angels desire to look into." (Pet. 1:12) One casts questioning glances toward the Lord: another gazes directly at the viewer as if to say, "Do you understand?"

The Discovery
Original, Oil on Canvas 44" x 30"
Giclees available on canvas and paper. Contact artist for custom sizes.




Back to Portfolio



For additional resources and information regarding the Bride of Christ, visit ihop.org.