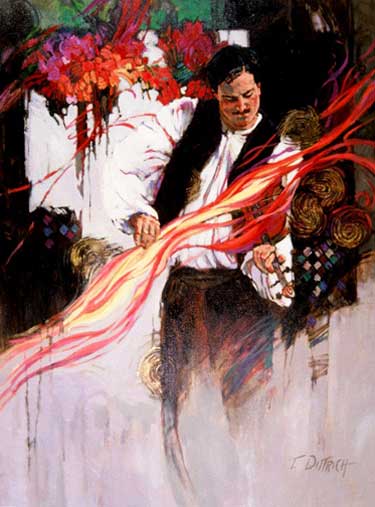 The Fingerprints of God
"The Fingerprints of God" is a depiction of the passion involved in sincere worship. A young man in a flowing white shirt plays his violin not in performance, but as an expression of his heart felt love for God. Praise becomes the habitation of the Holy Spirit symbolized by the fire that flows through the worshiper's bowstring. Gold leaf fingerprints in and around the young man denote the fingerprints of God. Dramatic contrasts between dark and light and the color intensity of background flowers convey the joy and exhilaration of this moment.

The Fingerprints of God
40" x 30" Giclee on canvas
Giclees available on canvas and paper. Contact artist for custom sizes.




Back to Portfolio