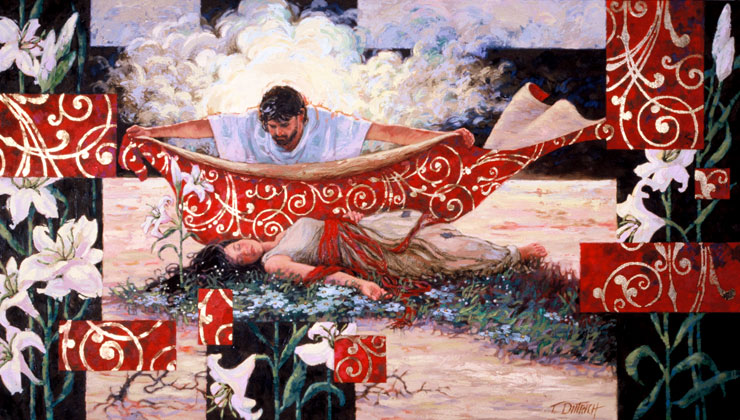 The Treasure in the Field
"The Treasure in the Field" is an invitation to discover the meaning of Christ's parable in Matthew 13:44 "The kingdom of heaven is like a treasure hidden in the field; which a man found and hid; and from joy over it he goes and sells all that he has and buys that field." Every phrase in this passage is significant, heaping meaning upon meaning as it presents the gospel in one compact sentence.

In the painting, the field is desolate and barren and represents the world. The man (Christ Himself) finds the treasure (His Bride, the Church) in the field. In His joy ("for the joy set before Him, endured the cross." Heb. 12:27) over the treasure, He sells all that He has. Scripture states that Christ "emptied Himself, taking the form of a bond servant. He humbled Himself by becoming obedient to the point of death, even death on a cross." (Phil. 2:7)

It is significant that with outstretched arms He provides covering for His Bride. Christ overshadows her and within the bounds of that shadow, life springs forth - first, in the maiden herself, then in the green grass, flowers and lilies. Jesus says, "I have come that they may have life, and that they may have it more abundantly." (John 10:10) The lily, symbol of resurrection life, is an oft - repeated motif in the painting. It echoes the Beloved Bridegroom's voice in the Song of Solomon 2:2, "Like a lily among thorns, so is my darling among the young women."

The Treasure in the Field
Original, Oil on Canvas 33" x 58"
Giclees available on canvas and paper. Contact artist for custom sizes.




Back to Portfolio



For additional resources and information regarding the Bride of Christ, visit ihop.org.